Green Tea
Green tea is a type of tea that is made from Camellia sinensis leaves and buds that have not undergone the same withering and oxidation process used to make oolong teas and black teas. Green tea originated in China, but its production and manufacture has spread to other countries in East Asia.
Brewing: Brew green tea in low temperature (160F) for two (2) Minutes, transfer to warmed teapot and keep the brewed leaves. Green tea may be brewed several times. With each brew, increase brewing time (add approx. 2 minutes)
3.50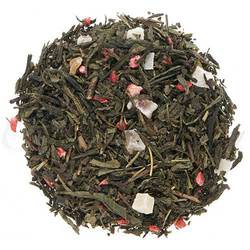 Green - Long Island Strawberry Green 1 oz.
$3.50
3.50
Flavory, summer sweet strawberry and papaya pieces round out an exceptionally smooth green tea.
read more

▼